Clan History
The clan's history can be traced back to 1067 and the days of King Malcolm 3rd. Bartolf was a Hungarian who came over with Malcolm's new bride Margaret ( later Saint Margaret - canonised by the Pope in 1250 ), he was rewarded for services with lands in Aberdeen, Angus and Fife. This was only the beginning of a long line of Leslies who excelled in the battlefields both at home and abroad.
The Leslies fought on both sides during the Jacobite uprisings.
Leslie Castle, in the Parish of Leslie, Garioch, Aberdeenshire was the original site of the "new" Clan it was a raised mound surrounded by a stockade. It was replaced in the 14th century by a much stronger edifice of stone. It remained in the family until 1620 when it was sold to the Forbes. 300 years later in was allowed to fall into ruin until purchased again by a Leslie in 1979 who spent 15 years renovating it to a stage where it was once more a place to live.
Leslie is a village adjoining Glenrothes in central Fife. Originally called Fettykill it's name was changed in 1283 when Norman De Leslie was granted lands there.
Leslie House, Leslie - Glenrothes, Fife. The building was started by the Duke of Rothes in 1667, a famous Italian architect was employed and it was to have no expense spared. It was said to be the largest house of its time with 80 bedrooms but unfortunately was seriously damaged by fire on christmas day 1763. The Duke restored one wing but the cost was too much and one wing is all that stands today. It was sold to the Church of Scotland as a home for the elderly in 1919 and at present is awaiting planning permission to be converted into flats.
Balgonie Castle, Markinch, Fife. Fifteenth century tower reconstructed by Alexander Leslie, Earl of Leven. Bought in 1635 and inherited by a Melville in 1681.
Balquhain Castle, 3 miles from Inverurie, Aberdeenshire it was the baronial residence of the Leslies of Balquhain. In 1340 George Leslie received the barony of Balquhain from his father, Sir Andrew de Leslie 6th Baron of Leslie. He was then known as the 1st Baron of Balquhain in his own right.
It originally comprised of a quadrangular turreted building with a central court. It was burned to the ground in a feud with the Forbes Clan in 1526. The square tower or keep that we see today was created in 1530 when the castle was rebuilt by Sir William Leslie. The new castle was said to be a place of elegance and comfort and that Sir William the 9th Baron is said to have entertained his Royal Mistress there. Queen Mary spent a night or two there in September 1562.
Around 1694 Patrick Count Leslie moved to more luxurious dwellings at Fetternear House. It was allowed to lapse into ruin and in 1746 as a result of Culloden was probably helped on it's way a bit.
Fetternear House is about 4 miles to the south of Balquhain. It used to be the summer palace of the Bishop of Aberdeen. There is mention of it in a missive from Pope Adrian 4th to Edward,the Bishop of Aberdeen, in 1154, confirming the gift of land from the Scottish King to the church. It was enlarged by a Alexander of Kinnimond in 1330.
William Gordon, who was the last catholic Bishop of Aberdeen assigned the Barony of Fetternear in 1566 to William Leslie of Ballquhain. He was sheriff of the county at that time and had saved the cathedral of Aberdeen "from destruction against the fury of the mob". This was later confirmed by Royal Charter and has belonged to the Leslie family ever since. It was originally called the tower and fortress of Fetternear but subsequent modernisations have always been carried out with comfort rather than security in mind. It was mainly destroyed by fire in 1919.
Pitcaple Castle was another in the area belonging to the Leslies from 1457 for 300 years until passed on in marriage to the Lumsdens.
Pitcairlie House, Auchtermuchty, Fife, in 1312 the Barony of Abernethy was incorporated into the Leslie hoard by marriage. Pitcairlie House dates from the early 16th century the tower having been built 1550. It was sold to pay debt in 1667. Today it is a modernised holiday apartment complex,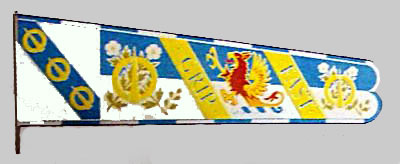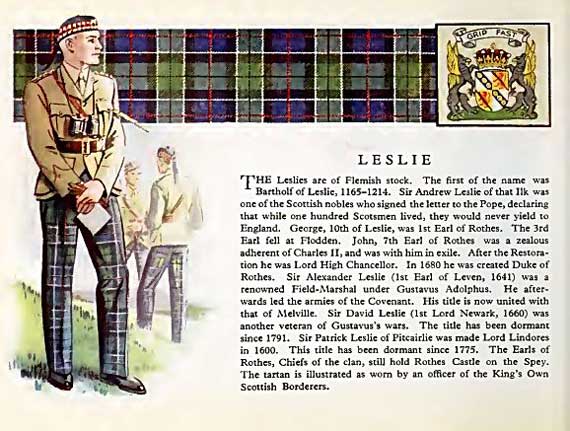 Stop Press -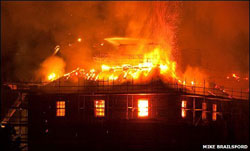 Latest update 10th Feb -
BBC report on fire at Leslie House
I have had a few enquiries for more photo's of the fire damage -
and the rear view taken friday 13th -