Clan Name: Lamont - various associations - Lamb, Lemmon, Lammon
Clan Motto: Ne parcas nec spernas - translated - Neither spare nor dispose.
Clan Chief: Peter Noel Lamont of that Ilk, Chief of the Name and Arms of Lamont.
Clan Seat:The Old Manse at Inverchaolain by Loch Striven
Clan Lands: Cowal.
Clan Tartan :
more information : Clan Lamont
Clan links :
Clan History
The name Lamont starts appearing around The Cowal area in the 13th century with entries in land registers. A Sir Laumon granted lands to the monks of Paisley to found a church in the area which was to be known as Kilfinan.
In 1300 there was a period of 15 years when Scotland was without a king. One of the contenders was The Red Comyn of Badenoch, a MacDougall and another was Robert the Bruce. Unfortunately for Clan Lamont they sided with the MacDougalls. The Red Comyn was slain at Greyfriars Kirk by the Bruce ( a deed that was to get him excommunicated by the Pope) After this nasty event Robert the Bruce was crowned King in 1305.
Within two years he had consolidated his power base and set about bringing the MacDougall Clan and their supporters to heel. This resulted in the Lamont's losing much of their land's to the Campbells.
In the 1640's Mary Queen of Scots grandson Charles 1st (second King of United Kingdom) was caught up in the English Civil war with Cromwell and Sir John Lamont, 14th clan chief sent men to England to fight for Charles - bad move again.
In 1646 King Charles was beaten and sought refuge in Scotland and the Campbells who had been against King Charles's policies took it on themselves to lay siege to the Lamont's at Toward Castle and Ascog.
The Campbells after fourteen days were said to have brought up cannon and pounded the castles for a further three days. Eventually the Lamonts were coaxed to surrender their strongholds on the written assurance that lives would be spared and were guaranteed safe passage out.
There was slaughter as the Campbells fell upon the Lamonts, who had lain down their arms. Figures vary of between 100-900 men, women and children were cut down. Sir John was imprisoned in Dunstaffnage Castle, where he was to stay for five years, and their properties were looted and burned.
Sir John's sister Isobel managed to escape, luckily with the written surrender document, and eventually managed to present her story and proof before the King. This among other crimes resulted in the Marquis of Argyll ultimately being executed for his crimes in Edinburgh 1661. In 1663 Sir John had his lands restored which must have been a bitter-sweet end piece. The castles were left to ruin as they still stand today. The Clan lost heart and never recovered.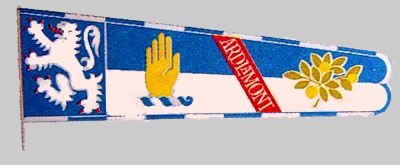 Kilfinan Parish Church about 10 miles west of Dunoon was a clan graveyard.
Toward Castle is a ruin and located about seven miles south of Dunoon.
Ascog Castle is also very much a ruin located on the Ascog Loch just before Portavadie, which is about 8 miles - as the crow flies - west-south-west of Dunoon. (or 27 miles by road, using a medium car would leave a carbon footprint of 9.64kg [ aren't computers wonderful LOL]).
After Toward in 1646, Ardlamont became the seat of the Lamonts, an 11,000 acre estate situated about 10 miles to the east of Dunoon. Ardlamont a grade "B" listed mansion house was originally built in 1325. In 1819 when the 19th Clan Chief returned from the Napoleonic wars, where he was in command of the Gordon Highlanders, he invested heavily in a makeover to bring the house up to date. It was advertised for sale at £90,000 in 1893 but actually changed hands for £70,000.
Knockdow was the seat of the McGorrie Lamonts, the house is located in a 6,000 acre estate, about 11 miles south-east of Dunoon. It was built in 1817, and enlarged and remodeled by the last Lamont of Knockdow, Sir Norman Lamont. The estate was sold in 1990.
In 1893 the Clan Chief sold all the remaining clan lands excepting Knockdow and left for Australia.
The current Clan Chief is a Priest in Australia.
Anyone visiting the area should try to catch Cowal Highland Gathering a sight to see at the end of August. Book accommodation early though the whole area is stowed out. I got one place for my caravan 5 miles out of Dunoon after 3 hours trying all the camp sites.